Ibanez RG Custom
This project came together sort of by accident. I was given an RG body (not sure which model) by a great fellow on the JCF (thanks Donny!). Around the same time my eldest son had expressed an interest in painting a guitar.
That's all it took. Project commenced.
The body had some curious markings wood burned into it. So I filled them and primed the body. My kids painted the body with art store acrylic paints. I cleared it with the Minwax water-based polycrylic stuff. I think the kids did a great job!!!
I scored a really nice maple RG550 neck from an Ebay auction. Another JCF member came through with the bridge (thanks Ron!). The bridge was gold so I went ahead and did as much of the hardware in gold as I had parts available. The tuners, lock nut, and string retainer came from my white JEM.
I got the pickguard from Terrapin Guitars. I knew I'd want a clear one since the kids were going to paint it. I also asked Terrapin to do a new truss rod cover in any material they felt like. I like what they did!
I ordered 3 Dimarzio pickups in crazy colors to go with what I anticipated the paint scheme was going to be (I think I did pretty good picking out pickups).
My son chose the knobs - they're Nobease - the squishy rubbery ones. Another excellent choice.
Enough talk. Time for pictures.
Steve Vai signed the headstock!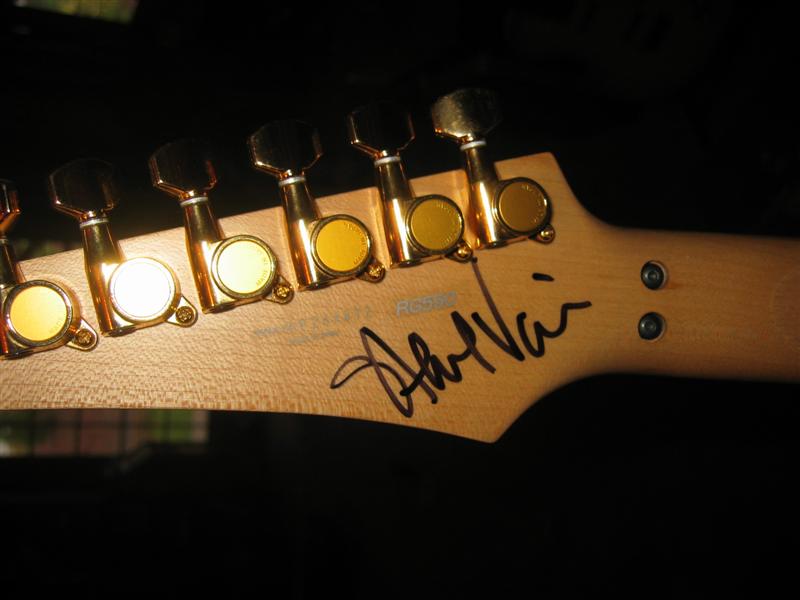 And the body!